Between Amazon, streamlining services, and online food delivery, we've gotten used to getting whatever we need (or want…) as fast as possible.
Yet, the average company still takes almost an hour to respond to new leads.
In that time, your hot lead has turned lukewarm, at best.
Bloomreach, one of Leadfeeder's customers, is all about speed.They are committed to helping their customers develop relevant, personalized experiences at a break-neck speed.
As a result, they needed help finding the best leads as fast as possible. That's when they turned to Leadfeeder.
We recently spoke with Juraj Horny of Bloomreach to discuss how Leadfeeder has helped their company succeed.
As the VP Demand Generation, Juraj Horny's role is to focus on pipe growth, optimization, reporting, and the team's martech stack. He also manages part of Bloomreach's marketing team that focuses on ABM programs and many other initiatives.
Bloomreach helps turn customer data into marketing magic
Bloomreach is a customer data and experience platform focused on helping ecommerce companies deliver experiences with limitless relevance, personalization, and value — and they do it crazy fast.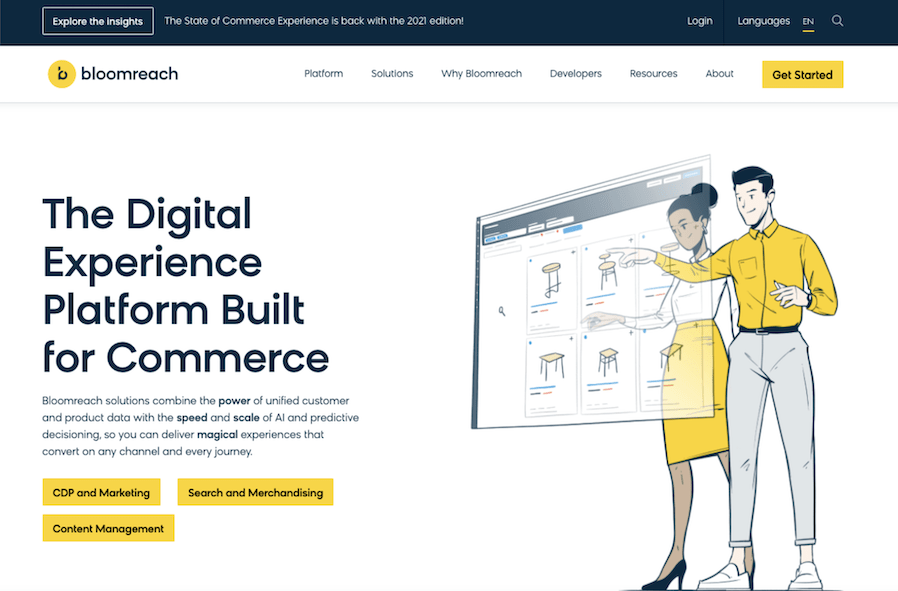 Like many companies, Bloomreach struggled to find the right leads. Most importantly, they needed leads fast so they could take action right away. After all, no one wants to wait around for days to hear back from a company.
Leadfeeder helped them do just that.
What challenges did Bloomreach face?
Most marketing teams are focused on the sales pipeline and getting as many leads as possible.The problem with that approach? It tends to fill your pipeline with a ton of leads that don't go anywhere, wasting time and resources.
Bloomreach focuses on quality, rather than quantity. They wanted to see what companies on their target list are the most engaged, or at least know something about their brand.
They'd even tried other solutions like Lead Forensics, but hadn't quite found what they are looking for. Juraj shared,
Before Leadfeeder, we were using Lead Forensics - we compared the best tool on the market available and decided to try Leadfeeder. And we stuck with it. It covers most of the intent data, UX is straightforward and very intuitive to play with and connect to other platforms, like slack, or Hubspot in our case.
Related: Read more about how Leadfeeder compares to Lead Forensics here.
How Leadfeeder helped Bloomreach find better leads, faster
Bloomreach had two main focuses: they wanted better leads and they wanted them faster.
Leadfeeder helped by allowing the team to monitor what companies came to their website and — more importantly— what they did when they got there.
After installing the Leadfeeder script, Horny's team was able to see precisely what companies visited their website, how long they stayed on the site, and even what pages they visited.
Leadfeeder also easily integrates with tools Bloomreach was already using, like Slack and Hubspot, to deliver those quality leads directly to the right sales team fast.
Bloomreach's results with Leadfeder
Leadfeeder gave Bloomreach a better overview of companies that are interested in their product and provided high quality data that can be used in lead scoring in Hubspot. They also integrated Leadfeeder with Slack so sales was immediately notified when new leads popped dup — or when current leads visited the website.
They noticed two main benefits to Leadfeder:
The team was able to prioritize their outreach effort far more effectively by focusing on leads that showed intent to purchase.
They had proof a potential client was interested after a sales meeting (by seeing they visited their website) and were able to narrow the discussion based on what the company researched on exponea.com
Start finding better leads with Leadfeeder today
Ready to see what companies are visiting your website? Sign up for a free 14-day trial of Leadfeeder and find out why Exponea loves our platform so much. You won't be disappointed.
---
Share:
View all customer stories →