Leadfeeder vs ZoomInfo
Want to see who visits your business website and what they do when they get there? You might be considering ZoomInfo.
Like Leadfeeder, ZoomInfo uses a script to track who visits your website, see what pages they visit, and then match those visitors with real companies.
That process allows B2B companies like yours to see which companies visit your site, so you can follow up with leads, target them with paid ads, or build an account-based marketing strategy.
But is ZoomInfo worth the cost? Is it better than Leadfeeder? This quick guide covers everything you need to know to choose the right B2B website visitor tracking tool for your business.
There are quite a few website visitor tracking tools on the market. So what should you be looking at when comparing your options?
Here are a few options to keep in mind:
Data quality: Website visitor tools track who visits your site and matches those visitors with a database of contacts. Where that data comes from — and how good it is — directly impacts how well you can turn visitors into leads.
Integrations: You can't do much with data if it just sits there. Integrations allow you to share data with your CRM, sales tools, chat software, and more. Make sure the tool you select integrates with the tools your team already loves.
Filters: Data is only as good as your ability to use it. Make sure the website visitor tool allows you to sift and compare data. For example, can you view companies from a specific industry, size, or location?
Pricing: There's a huge variation in pricing for website tracking tools. Some cost thousands; some only cost $50 or $60 a month. Make sure the tool fits your budget — and see if the pricey ones offer a bunch of features that you don't need.
The right website visitor tracking tool doesn't just show you who visits your site — it helps you turn that data into revenue.
Compare features: Leadfeeder vs. ZoomInfo
How do Leadfeeder and ZoomInfo compare when it comes to features? Here's what you get with each platform.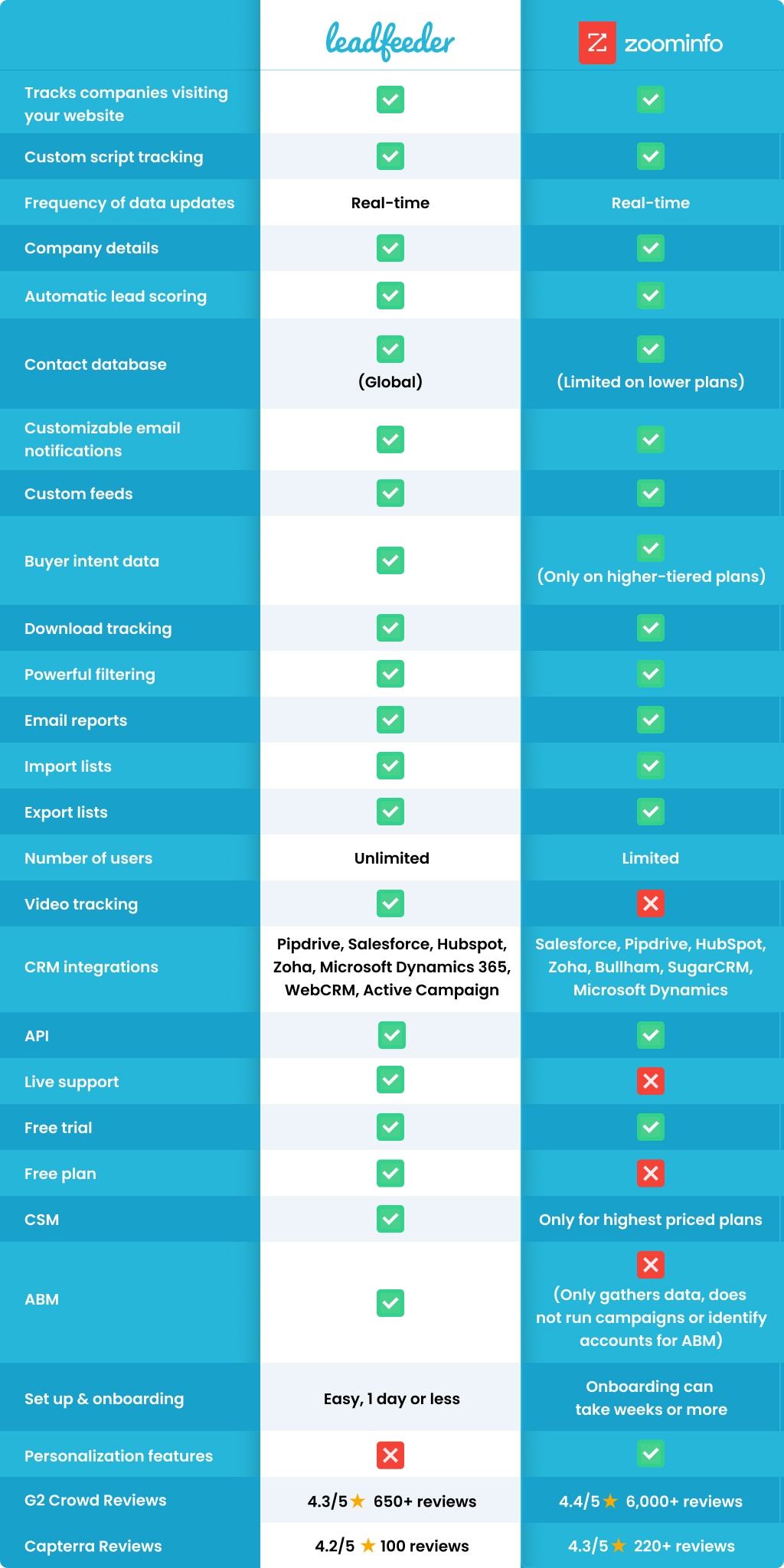 Website tracking features winner: Leadfeeder
Both Leadfeeder and ZoomInfo identify site visitors and provide the contact data you need for better lead generation. We both offer detailed sorting and reporting tools.
However, Leadfeeder also offers live support, video tracking, and two-way CRM integration, which ZoomInfo does not.
Compare pricing: Leadfeeder vs. ZoomInfo
How much will you spend on a visitor tracking tool? Well, it depends on which tool you choose.
Leadfeeder offers transparent pricing, so you'll always know what you pay before you buy. ZoomInfo, on the other hand, hides its pricing behind demo and free trials.
According to their site (always check their site for the most up-to-date information), users are charged by "credits," which vary in cost based on how "robust" those credits are.
This pricing style is common for SaaS tools, but it makes it really hard to compare tools equally. From what we've found on forums and other sites, ZoomInfo seems to start somewhere between $5,000 for 5,000 credits and $45,000 per year.😳
Still, we can't say for sure; you'll need to contact them for pricing based on features, users, and "credit usage."
At Leadfeeder, on the other hand, we believe that trust starts with transparency. We also think it's only right that you know how much you'll pay.
To that end, we offer two plans: Lite and Premium. Lite is always free and offers seven days of data and access to limited features.
Our Premium plan starts at $139 a month for up to 100 leads when billed annually. If you have more leads, you'll pay a little more. Here's what you can expect to pay:
If you see more than 5,000 leads per month (go you!), reach out for a custom pricing plan.
Pricing winner: Leadfeeder
Leadfeeder costs less (or seems to!) and is much more transparent about pricing. We also offer an always-free plan.
Compare integrations: Leadfeeder vs. ZoomInfo
Integrations help you make the most of your lead data by allowing you to sort, organize, and even notify team members about new leads.
For example, Leadfeeder integrates with Salesforce, allowing us to send new leads to the platform, and even create new leads right in Salesforce and assign them to a user.
Leadfeeder integrates with a number of other platforms, including:
Pipedrive
Mailchimp
Salesforce
HubSpot CRM
Zoho CRM
Microsoft Dynamics
Slack
Google Data Studio
Google Analytics
Leadfeeder also integrates with Zapier, which allows you to connect with a ton of other tools.
ZoomInfo's integrations include:
Bullhorn
Caliber Mind
Chat Funnels
Chrome
Clickagy
Eloqua
Fusion
Hubspot
Intentomatics
Marketo
Microsoft Dynamics 365
Outreach
Pipedrive
Qualified
Sales Robots
Salesforce
Salesloft
Shift
Sugar Sell
Webware
ZINFI
Zapier
Zoho
Integrations winner: Tie
ZoomInfo does connect to more tools than Leadfeeder, but many are beyond what you'll need for website tracking. Leadfeeder also integrates with Zapier, so you can add other integrations than those we support natively.
Frequently asked questions: Leadfeeder vs. ZoomInfo
Still not sure which visitor tracking tool is right for you? We've got you covered.
Is Leadfeeder or ZoomInfo better for SMB?
While both tools work well for enterprise companies, Leadfeeder is better for SMB because we offer tiered pricing and an always-free version. This lets smaller companies (which often have tighter budgets!) track their website visitors for free.
Does Leadfeeder or ZoomInfo offer better quality data?
At Leadfeeder, our data is backed by a team of data scientists who know their stuff. We couldn't find anything about where ZoomInfo's data comes from.
Does Leadfeeder or ZoomInfo offer better customer support?
Leadfeeder's support team offers live chat support from 10:00 AM - 11:59 PM EET (3 AM - 5 PM EST), Monday through Friday, excluding holidays or special events. ZoomInfo only offers live support for higher-tiered plans.
How much does ZoomInfo cost compared to Leadfeeder?
Leadfeeder offers two plans — our free plan, which offers seven days of data and limited features, and our Premium plan, which starts at $139 per month for up to 100 leads.
ZoomInfo doesn't post their pricing, but it appears to range between $5,000 and $45,000 annually, depending on the number of leads and features you select.
Have more questions about Leadfeeder?
If you've got more questions, the Leadfeeder support team is here to help. Our support team is available via live chat on our website or email from 10:00 AM - 11:59 PM EET (3 AM - 5 PM EST), Monday to Friday, except holidays and other special events.