Timing is everything.
(Have you ever tried to eat an avocado 2.3 seconds after it was ripe? Yeah.)
When it comes to leads, however, timing can take on a whole new meaning. It's not just about missing the boat; it's also about wasting valuable time.
Reach leads are too early, and you'll waste time nurturing a lead before they're ready to commit.
Get there too late, and you'll lose the sale to a competitor.
Leadfeeder helps logistics companies get the timing right by showing exactly when companies visit their website and what they do when they get there.
One of the companies we're helping get timing right is Suddath, a logistics and moving company.
We recently interviewed Leadfeeder customer Brandan Savage, the Market Research and Development Manager for Suddath Van Lines, to understand how their team has leveraged Leadfeeder to connect with leads at the right time and reduce cold calling.
Bradon's primary role is to conduct market research on the commercial real estate industry, and develop target account lists with key contact information to provide to sales reps. He's also in charge of managing several of the tools Suddath uses to better understand their prospects.
Brandon shared,
It's been interesting and insightful to see the types of companies that visit our site, especially seeing our competitors visiting us has been very helpful.
So, how exactly does Suddath leverage website behavior information from Leadfeeder?
Suddath: America's largest commercial mover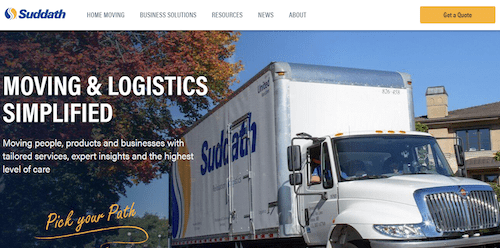 Suddath is a moving company serving both residential, commercial, and military clients. In addition to serving several types of customers, they also serve a large geographical area — 13 metro areas plus international clients.
That's a lot of ground to cover.
Unique challenges Suddath faces
As a moving company, Suddath faces several challenges. For starters, they serve a wide variety of clients in a number of locations. Plus, clients tend to move just once every four or five years, so getting the timing right is crucial to targeting leads.
Cold calling, for example, isn't as effective for them, as most companies will need their services eventually — but possibly not for months or years. Leadfeeder helps them see what companies are directly visiting their website, which is a strong indicator they are planning a move.
Beyond LeadFeeder, Suddath also utilizes ZoomInfo, D&B Hoovers, and LinkedIn Sales Navigator.
Related: How to Use Leadfeeder Lists to Retarget on LinkedIn.
How Leadfeeder helps Suddath reach the right prospects at the right time
Leadfeeder is a website visitor tracking platform that helps businesses like Suddath see what companies visit their website. When Suddath sees a company has visited their site a few times, they've got a strong indication that the company is planning a move — which means a sales rep can reach out to find out more about their needs and offer solutions.
According to Brandon, Leadfeeder is helping several teams find better leads and improve cold calling rates.
He shared,
We have a few teams utilizing Leadfeeder, for our "Workplace solutions" aka Commercial Moving team, both our Business Development cold calling reps and our outside Sales Reps have access and gave me very good feedback on finding good opportunities. We also have our Logistics team and Employee Relocation team utilizing, we haven't had as much traction or action with these but I believe that's more from not getting as much web traffic to those sections of our website yet.
Sudath also used the CRM integration features with Microsoft Dynamics to connect all the data together. Connecting data across platforms, including CRMs, Slack, and email marketing, helps sales and marketing stay aligned.
Try Leadfeeder today
Tired of losing logistics clients to the competition or wasting time on leads that won't convert? Leadfeeder can help your company find out who is visiting your website so you can focus on high-value leads.
Sign up for a free 14-day trial and see what companies are visiting your website.
---
Share:
View all customer stories →