Marketing is more complicated than ever. There are dozens of platforms, hundreds of markets, and more data than ever before.
That makes it challenging for companies to stand out, especially if they don't have a large marketing team.
SWC Partnership is a UK-based marketing agency aiming to fill marketing gaps by functioning as an extension of their client's marketing team and provide on-the-ground information about new markets in the UK.
And Leadfeeder is helping them be more effective than ever.
We recently sat down with Simon Cristal, the founding partner at SWC Partnership, to learn how Leadfeeder is helping their company deliver real results for clients around the globe.
Note: Leadfeeder is a sales and marketing tool that tracks who visits your website — even if they don't fill out a form. Sign up for a free trial and start uncovering hidden leads.
SWC Partnership is a full-service marketing agency that delivers real results
SWC Partnership is a specialist marketing agency that helps brands talk to international audiences by providing local insights. Companies that don't have a physical presence in a particular country or region can use those insights to inform their marketing strategies and build more successful campaigns.

They've used Leadfeeder themselves for several years, but recently decided to implement our solution for their clients.
Why did they choose Leadfeeder?
SWC Partnership tried other providers similar to Leadfeeder, but were often treated like a number on a spreadsheet rather than people. In addition to lack-luster support, the data was often outdated or hard to navigate.
Enter Leadfeeder.
When their account management team met with a Leadfeeder rep, they could tell things were different. Maisa Aaltonen walked them through the onboarding process and explained how Leadfeeder would help their company succeed.
SWC Partnership loves both the service we provide and the added value initiatives such as GDS reporting and all the webinar/reporting features. They've leaned into those initiatives since the pandemic started, so tracking those efforts was a top priority.
In addition to tracking visits to their own website, SWC Partnership uses Leadfeeder to track client campaigns. Here's how that is working out for them.
How Leadfeeder helped SWC Partnership and Wallonia-Belgium reach their goals
Wallonia is a region in Southern Belgium known for Renaissance-era architecture, natural caves, forests, and rivers.
They recently paired with SWC Partnership to run a series of ads in The Times and on LinkedIn to highlight their region as an ideal location for UK business due to its location (just two hours from London) and lack of trade barriers.
But, they needed help targeting a UK audience — which is where SWC Partnership stepped in to help.
Their goal was to cut through the noise by creating a creative government campaign that stood out. SWC Partnership started by reviewing the audience and developing a media plan to maximize the campaign's reach.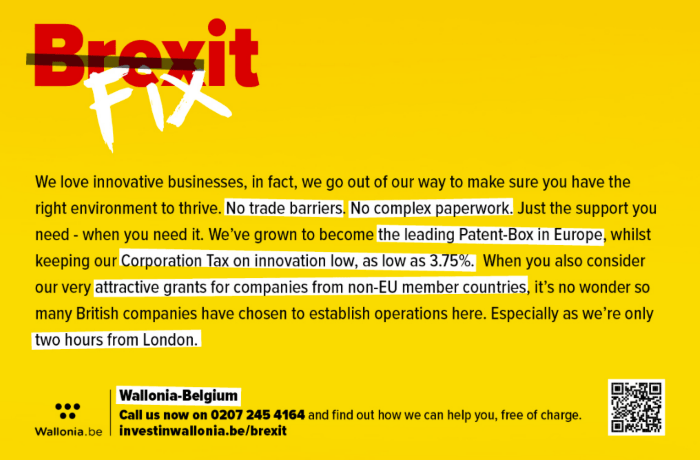 SWC Partnership also invested in Leadfeeder reporting to show their client the effectiveness of their campaign performance. Using our custom feeds and filters, they provided hard evidence that key target companies/industries were visiting their website as a result of the campaign efforts.
Our recent Wallonia-Belgium campaign has been a phenomenal success. Leadfeeder tracked over 50+ high-quality UK leads from the campaign and 300+ leads globally. We have also been able to use this data as part of our retargeting efforts and it has helped us and the client report back to the government of Belgium hard campaign proof. Leadfeeder makes marketing accountable and measurable beyond just unknown hits to a website.
They also like that Leadfeeder offers enhanced data and evidence that otherwise is unattainable. For example, you can see what pages prospects view, how long they spend on each page, repeat visits, and exit pages. This data can help qualify leads, in addition to proving SWC Partnership's campaign delivered results.
What SWC Partnership loves about Leadfeeder
SWC Partnership loves the support and the data we provide. In addition to providing a dedicated account manager and professional setup, we also provide data you won't get anywhere else.
Above all, they love that Leadfeeder feels like a partner, not just another faceless tool. Founding partner Simon Cristal shared:
We see Leadfeeder as a partner to our business efforts for clients, and not as a faceless off-the-shelf tool which we subscribe to.
Ready to get real results? Here's how Leadfeeder can help.
Leadfeeder is a website tracking tool that helps sales and marketing teams see what companies visit their website and what actions they take — even if they don't leave their email or a contact number.
Using IP and domain data, we can tell you which companies are interested in your offering so you can close more deals.
Do you want to find more B2B leads and understand your prospects better? Sign up for a free 14-day trial.
---
Share:
View all customer stories →